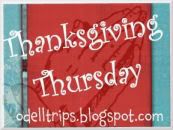 I need to do this today.
What I am thankful for on this fine Thursday?
*
The rain
.
We have had...enough rain lately, but we should be thankful. There are parts of the world that thirst, and we are in no short supply of water around here!
*Reagan
.
She is my heart. She is all happiness and innocence, and I love her beyond words.
*Ethan
.
He is my laughter, and my smile. He makes this gray and gloomy day full of sunshine.
*Delaney
.
She is my sweetness. When things seem dull and bitter, a piece of Delaney will always bring delight to our soul.
*Addison
.
She is my comfort in human form. She gives a bounty of love in the form of kisses and hugs, and blankets us with sweet baby chub.
*Joel
.
He is my beauty. When we question the world, and our situation, we look at the miracle that is Joel and smile and take comfort that God has a plan.
I am
thankful
for
therapists, and doctors
who are taking such care in helping Reagan and Joel.
I am
thankful
for
friends
who keep me grounded, help me out, and keep me sane.