The one who is testifying to these things says, "Yes, I am coming soon!" Amen! Come, Lord Jesus! ~Revelation 22:20
Wednesday's Walk: Walk with Us! Click below: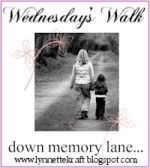 PLEASE, please, please...before you read my blog today GO see little
Kayleigh's blog
.
I am just incredibly heartbroken to read what I read this morning.......
******************************************************
On to my walk....
I have had moment's of grief in my life. My Grandfather died when I was very young, and from what I have been told he was my very favorite person. I don't remember the grief, only what was written. I was quiet, if not silent, for days. My parents were worried....but looking back, it's a VERY Christa thing to do. The Christa of my childhood is the same as the me of today. When I am sad, or in pain...I clam up. I don't like emoting. I don't like crying. I just go "away" which is probably not healthy, but it's very ME.
One of my biggest times of grieving turned into a depression. In 1998 I moved out of my childhood home. It was a permanent and final separation from my mother. It was a good thing. BUT...being permanently severed from my childhood ties, no matter how painful it was, put a shock to my system.
For a month or two I went back and forth from living in my car, to living with friends, and I finally settled into my dad's house (who recently left home as well). There were a lot of nasty words exchanged, and I fell apart....for about a year. I turned from God, and I have never felt so alone in my life. I finally came back to the Lord in 1999, and I have never looked back. There is no grief like being turned away from HIM.
Then there were my 5 miscarriages.
This grief was different. In my earlier years, before Christ, I was scared of death. I would wake at night in cold sweats and hyperventilating....at the thought of my mortality.
After Christ, I have THE hope. The hope that life not only goes on, but it gets infinitely better than what we know now. When I said good-bye to my 5 babies, I knew it was only for NOW. I would meet them in Heaven, and someday my family will be whole again.
It's a beautiful thing when you are walking with God.
I urge you...if you don't know that peace...FIND it.

Look! I am standing at the door and knocking. If anyone listens to my voice and opens the door, I will come in to him and eat with him, and he will eat with me.~ Revelation 3:20