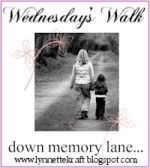 It's fun to go back and see what my aspirations were as a small child. It tells a lot about what kind of a kid I was. I remember, and it's recorded, that at age 5 I wanted to be a veterinarian. I loved animals, ALL animals, but mainly cats. I have always been a cat person.
What happened to that dream? Some people keep the same dream from a young age until they graduate college- those are the lucky people. They have a strong calling into a profession.... but things change. My favorite pet died of feline leukemia. She was put to sleep by a veterinarian, and that dream died along with her. I knew I could never put another child's pet to sleep.
I had other aspirations over my elementary years, from being an astronaut, to being a cowgirl (not kidding?!?!!?). Never ONCE did I think I would get married and have children. I never babysat, or had an interest in being domestic!
How times change!
Now I see my kids having aspirations, and I wonder if they will be the kind that has a lifelong calling...or if God will change & mold their dreams. Reagan says that she wants to be a Chef
(she tells me that she wants to make beautiful food like Mommy....HOW SWEET IS THAT?!?!?)
. Ethan, who I swear shares a soul with me, wants to be.......a "Kitty doctor". :)
Life is so good, and my prayer for today is that God will be the potter of their lives. I pray that I never impress my own aspirations onto my children. I pray that God would mold them into what ever His plan entails for their lives, and I pray that they will listen to His calling. I NEVER imagined that I would be a wife, let alone a mother of 5, but when you are walking on His path life is pure bliss!
Thanks for walking with me! What were your childhood aspirations?