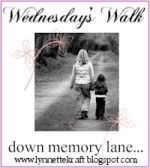 It was not a love story I wish that my children would repeat, but I met my husband-to-be in 1993 at church choir.
He was not my type at *all.
I have always been attracted to the skinny, nerdy, computer geek types. You know, thick glasses, nose in a book, but kind of cute underneath??? Yea, Josh was athletic, and a C-student.
He hated science....... need I say more?!?!?!?
Not my type.
There was still something about him that made me think about him, and talk about him to my girlfriends, ALL the time.
In late 1995 we finally realized that we liked each other. (Man, that sounds silly now!!!) We had to tie up some loose ends on some "relationships" that we had been involved in, and on Valentine's Day 1996 it became official.
Josh brought me roses, and I had the stomach flu.
He "asked me out" (LOL), I accepted, and promptly threw up.
I realized later that Josh wore contact lenses. He was half geek. :)
Waiting much too long to get married, we finally said our vows in 2002.