When people think of Erie, Penna. They think of lake effect snow storms, cold & cloudy days, and shopping. All of that is true. :) Erie is BEAUTIFUL, and most of us that live here take it for granted. Here's my "I love Erie" top 5:
5. Route 5 in West County in the fall. It really is beautiful. We have some of the most beautiful foliage in the world.
4. Waldameer. It's not the biggest amusement park in the world, but it DOES boast one of the best water parks. period.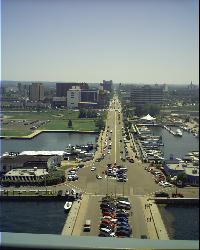 3. Shopping. Peach Street may be one of the busiest roads in the country. Seriously! Between the Millcreek Mall, and all of the shopping centers on Peach....there is no way you could want for anything! It's why we have so many Canadian tourists!!! Oh, and did I mention NO SALES tax?!?!?!
2. Sights and Attractions. Between the Zoo, Splash Lagoon, Tinseltown, The Tom Ridge Environmental Center, Erie Playhouse, Presque Isle State Park, Erie Art Museum, and many others....there is always something to do.
1. The Lake! Without it we would not be Erie! The single biggest draw to this city is the Lake, and Presque Isle. It's beautiful, and it gives us most of our 100+ inches of snow a year!!!!
To learn more about Erie click here:
Erie Tour Guide