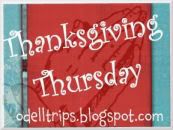 Our dreary Erie weather is scheduled to turn BEAUTIFUL this weekend!!!!
We are walking for the March for Babies with this year's ambassador family The Bolte's
One of my "sisters", Amy, is having a baby!!! She's 12 weeks, and I am so excited. Our kids needed a cousin!!!!
After hearing so many stories of lay-offs in our area, I am so thankful that my husband is working...even if business is slow.
I am thankful that we found a way for the car to get inspected for another year...though we will be purchasing a new car this year. Josh's car is a death trap. :(
I am thankful for a merciful Savior who is with us through scary, and changing times. A Savior who cares about our problems, and who listens and answers.
I am thankful for giggles and smiles.
I am thankful for baby kisses, and big kid hugs.
I still remain thankful for my kitchen, though it's not what *I* want...we have running water, and food in the cupboards. I keep mentioning my kitchen because it's a sore spot for me...and I need to keep reminding myself how blessed I am.
I am so very thankful for the opportunity to stay home and raise my children.
Lastly, I am thankful that it's THURSDAY. If you know me, you know why I say that. LOL.

ALSO: Check out
The Meanest Mom
, for an AWESOME Mother's day giveaway. She's a FUNNY lady!!! Definitely one of my very very favorite blogs of all time. :)