First things first. I want to send you
ALL
a heartfelt
THANK YOU
for all of your wonderful well wishes and prayers. After a short 3 hour hospital visit, an IV, blood work, chest x-ray, and lots of poking and prodding, we are
HOME
.
His fever went down from 104.7 to 101.8, and they got lots of fluids into him. He was not eating or drinking yesterday, but he seems to be
better
today. He has a virus, a nasty one, but he's going to be just fine....just a little crabby for a few days.
We were
REALLY
worried because our Joel, and all of his sensory issues,
hates to be held
. Normally Joel is arching his back away from us, and screaming really loud. Yesterday he was completely limp and listless. It was terrifying to see him so completely not himself.
He had a febrile seizure, and they are confident that it was not linked to his series of seizures last fall.
Here's a picture of Joel when we first arrived at the ER (cell pic...sorry)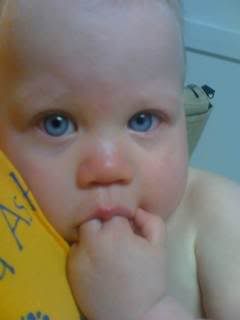 Ok, on to happier things!!! Yesterday was the March for Babies.
Joel, Reagan, and Ethan were feeling under the weather...so it was just me and the baby girls. The girls were on TV for about 2 seconds if you watch WICU channel 12.
Josh was so excited!
I was bummed that we could not go as a family, but it ended up being a very nice day.

Here are some pictures of our beautiful Erie day:


Here's a picture of Laney at the start of the walk.
Addie hates crowds, and was scouling at the camera.
Ha! No pics of her.

This is the team t-shirt on Laney. We walked with the
Bolte Family
.
Go Team Isaac and Asher!!! The Bolte's served as the ambassador family
for the 2009 walk. They did a fabulous job!
Here's Addie in her t-shirt!
We marched down Penninsula Drive. This is the
Waldameer Park
roller coaster that bridges Penninsula Drive.
Also on Peninsula Drive, which I did not get a picture of, is the
Tom Ridge Environmental Center
.
The walk went down Peninsula Drive to
Presque Isle State Park.
We marched from Beach 1 to Beach 6. Here are some beach pictures.
Visit Erie!
P.S. It's Ethan's 4th BIRTHDAY today!!! Pics and a tribute to come tonight!!!