Crackers has been a wonderful addition to our family. All 5 of the kids adore HIM.
He does not mind the poundings that come when you are the single pet of 5 small children. Reagan carries HIM around like a ragdoll, Ethan demands that HE sleeps on his bed, Delaney grabs HIS fur and smooshes her face into HIS fur. Addie's pettting is more like slapping, and the cat actually loves to play with Joel. He plays a cat form of peek-a-boo that makes Joel laugh harder than any of us have ever heard. Despite all of this HE is pretty well mannered and has never retaliated.
Now on to NOT ME'ing. We had Josh's brothers and their wives over on Friday night, and while I was talking to the girls I hear Josh's brother announce....this cat is a MALE!!!!
That's right. We have NOT been calling a boy cat a girl for over a month now....and I am the farm girl that should know the difference. NOT ME!!!
I don't think I will ever live that down. It was the topic of conversation for the rest of the night. I am just glad we figured it out before I schedule this cat to get spayed instead of getting him neutered. LOL. I would have been the laughing stock of the vet's office for the week.
This week Reagan has Kindergarten registration, which is NOT tearing my heart into little tiny pieces. I never knew how hard this would be....
I was NOT late getting the kids to choir practice yesterday because I thought it was still February.....Not ME!
I am NOT totally waiting for this 18 degree weather to break because my van is a filthy mess and I NEED to clean it out, pull out all of the car seats and wash the crusty, nasty, baby messes off of them!!! NOT ME!
On to the CONTEST!!!! That's right, another GIVEAWAY!
Leave me a comment asking to be entered into the contest and I will enter you to win a 3 pack of
FuzziBunz
cloth diapers, a package worth $60! I will actually be giving your name to the
FuzziBunz
company and they will contact you for the colors and sizes you want! How cool is that!!!!! You get to pick!!!!
FuzziBunz™ diapers are the workhorse of all reusable diapering systems. Made with only the finest and most innovative materials, the stylish three-layered patented FuzziBunz™ design works hard to keep your babies' bottoms dry and rash-free… always!
Here's how the best-selling FuzziBunz™ diapering system works:
The waterproof outer barrier keeps wetness contained.
The soft microfleece inner layer gently touches your baby's skin, pulling away moisture and keeping your baby rash-free, dry, and comfortable. The microfleece is made of 100% Polyester and is custom-milled.
The unique, patented pocket-style opening enables you to customize the absorbency to fit your baby needs. Stuff the pocket with inserts, a pre-fold, or even a hand towel!
The updated top-stitching circles the top of the diaper and the tabs, providing reinforcement and demonstrating our commitment to making high quality diapers that hold up wash after wash.
The larger, square tabs hold the diaper in place to prevent sagging and provide better grip during diaper changes.
The stretchier elastic around the legs provides maximum comfort for baby.
The leg casings create "mini-gussets" to keep messes contained and leaks at bay.
The adjustable snap settings grow with your baby and enable you to adjust for your baby's waist and leg sizes.
The variety of sizes – including preemie, small, medium, large, petite toddler, and extra-large – ensure that FuzziBunz™ properly fit your baby.
The wide-array of color choices makes diapering fun!
Also....I am NOT participating in a GREAT and FUN way to find new great blogs to read...along with getting some blog traffic to your own blog!
Visit Lynnette's blog to participate today!
!!!!!! (Click on the link, or on the "Getting to Know YOU button"!)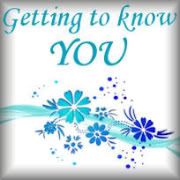 Happy Monday and GOOD LUCK!
Welcome to Not Me! Monday! This blog carnival was created by
MckMama
. You can head over to
her blog
to read what she and everyone else have not been doing this week.