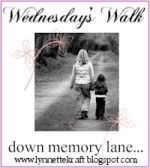 Thanks for joining me for another walk! Sorry this one is so late! It's been a crazy Wednesday so far.
I grew up on in a rural neighborhood, and we always had a cow that we raised for meat. I usually had a pony or a horse, and there were always a menagerie of chickens, cats, and dogs.
One of my favorite animals was a cow named Clarabelle. She was black and white, and I taught her to be a hunter/jumper...like one of my ponies. I did not actually ride her, but I led her over small jumps. Hahaha!
One day during late winter I was obviously bored of the snow, so I was scheming of something to do. I decided it would be a *great idea to tie our red sled to the back of Clarabelle and take my little sister, and our uncle (who was 2 years my junior), on sleigh rides.
Yes, I thought this was a GOOD idea. I was young and stupid.
I found rope, and I tied the rope to the halter and attached it to the sled. I found my sister and set her in the sled. Clarabelle took one look at the sled and took off......across the pasture.
The jumping lessons paid off.....for CLARABELLE, not for my sister....
She jumped through the fence, while my lil' sis fell off the sled.
Meanwhile there is a cow with a sled attached to it running through the front yard. My parents, grandparents, and neighbors are now watching.....and chasing. I am standing, dumbfounded that my splendid idea had gone wrong.
Clarabelle is now in the front yard of the next door neighbors home with the red sled still attached, and her sides are heaving. She has slowed down enough so that she has been captured.
I was surely the talk of the neighborhood that weekend.....