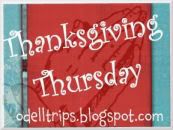 My first "Thanksgiving Thursday"!!!
Thanksgiving Thursday is hosted by
What a Trip!
*I am thankful for asleep dentistry!
*I am thankful for understanding husbands, who don't freak out at $600 of dental work. Especially when we don't have that kind of money to just hand away.
*I am thankful for our kitchen, even if it is outdated by over 50 years. Some people don't even have running water, so I should not complain about our metal cabinets.
*I am thankful for the beautiful blanket of snow covering the ground.
*I am thankful for healthy children.
In 8 days I will be hosting the first "Flabby Friday" here on my blog.
Have 5 pounds to lose? How about 20, 50, 100 or more??? Are you at your goal weight, and just trying to maintain? If you are older than 20, and not a marathoner....you probably think about your weight every once in a while.
The rules? There is really only 2 rules: link back to me, and LEAVE *encouraging* comments on every blog you visit!!!
I will have a button to link back to, and Mr. Linky will be here. You don't have to reveal your weight, and you don't even have to show how much weight you have lost (or gained!). This is just simply a way for us to encourage each other. Share your secrets of success, stories of failure, and tales of temptation.
Join me on
February 6th
for the first "Flabby Friday!"